TVB Weekly asked 34 TVB artists who they supported for the Best Actor and Best Actress for the 2011 Anniversary Awards and a majority of them voted for Myolie Wu and Kevin Cheng. I always like seeing who their colleagues are rooting for.
26 artists selected Myolie Wu for TV Queen. Those people include: Nancy Wu, Raymond Lam, Natalie Tong, Linda Chung, Crystal Tin, Wayne Lai, Evergreen Mak, Ruco Chan, Kate Tsui, Sam Lee, Ron Ng, Louis Cheng, Bosco Wong, Raymond Cho, Vivien Yeo, Mandy Wong, Ben Wong, Sire Ma, Koni Lui, Derek Kwok, Sharon Chan, Christine Kuo, Dodo Cheng, Kevin Cheng, and Johnson Li.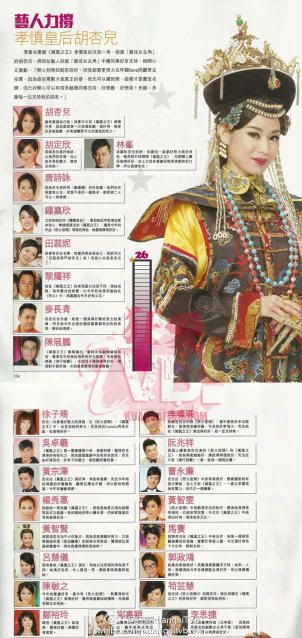 17 artists selected Kevin Cheng for TV King. These people include: Myolie Wu, Christine Kuo, Ben Wong, Sharon Chan, Sam Lee, Wayne Lai, Natalie Tong, Samantha Ko, Raymond Cho, Elena Kong, Crystal Tin, Vivien Yeo, Nancy Wu, Dodo Cheng, Kenneth Ma, and Raymond Wong.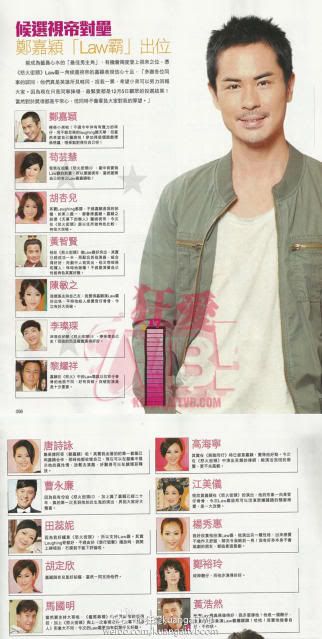 The other votes for TV Queen are as follows: 4 votes went to Fala Chen by Tavia Yeung, Kitty Yuen, Samantha Ko, and Raymond Wong. 2 votes went to Tavia Yeung from Aimee Chan and Fala Chen.
The other votes for TV King are as follows: 6 votes to Wayne Lai from Edwin Siu, Raymond Lam, Ron Ng, Linda Chung, Aimee Chan, and Pierre Ngo. 3 votes each to Bosco Wong and Steven Ma. Koni Lui, Kate Tsui and Kitty Yuen are rooting for Bosco while Fala Chen, Evergreen Mak, and Johnson Li are rooting for Steven Ma. Michael Tse has Bosco Wong and Derek Kwok on his side while Tavia Yeung and Mandy Wong are rooting for Raymond Lam.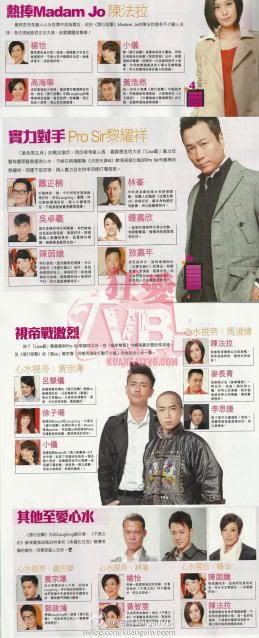 Of course, there are hundreds of artists out there but it is interesting to see what this sample is saying. I'm surprised that Michael Tse doesn't have that many people picking him for TV King. There are more people choosing Bosco and Steven over him. There is still a lot of fans that want him to win, but in the end it's all up to TVB. Do they see him as a capable leading actor? Can he bring in the ratings, prestige, or money to TVB for them to give the award to him? It's up to TVB to decide, but I actually see Kevin as the safer choice right now. Either way, I see them both getting an award that night.