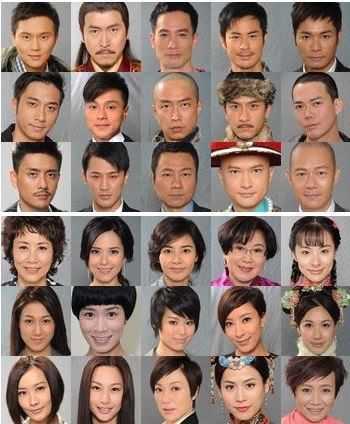 BEST ACTRESS
Charmaine Sheh - My Sister of Eternal Flower
Myolie Wu - Ghetto Justice
Fala Chen - Lives of Omission
Kate Tsui - Lives of Omission
Maggie Cheung - Forensic Heroes III
Tavia Yeung - The Other Truth
Linda Chung - Yes Sir, Sorry Sir
Jessica Hsuan - Curse of the Royal Harem
Liza Wang - Home Troopers
Louise Lee - Only You
Selena Li - Life and Times of a Sentinel
Sonjia Kwok - 7 Days in Life
Yoyo Mung - Only You
Kiki Sheung - Til Love Do Us Lie
Liu Xuan - Grace Under Fire
BEST ACTOR
Michael Tse - Lives of Omission
Bosco Wong - Lives of Omission
Kevin Cheng - Ghetto Justice
Wayne Lai - Forensic Heroes III
Moses Chan - Yes Sir, Sorry Sir
Raymond Lam - Men with no Shadows
Steven Ma - Life and Times of a Sentinel
Kenneth Ma - Life and Times of a Sentinel
Joe Ma - Relic of an Emissary
Raymond Wong - The Other Truth
Chilam Cheung - The Rippling Blossom
Roger Kwok - Wax and Wane
Ron Ng - Wax and Wane
Sunny Chan - Curse of the Royal Harem
Eddie Cheung - Til Love Do Us Lie
Comments: This is only a rumored list so it may not be totally accurate.
The Best Actor award is between Kevin Cheng and Michael Tse. There's a new rumor that they might give the award to Chilam Cheung because they really want him to film Triumph in the Skies. I'm surprised that Raymong Wong is nominated for The Other Truth but Ruco Chan isn't but it's probably because it's almost guaranteed that Ruco will be winning Most Improved Actor. Wax and Wane was not a very good series and it didn't have good ratings, but the one shining spot of that series was Roger Kwok! He showed so many layers in his acting and actually think this is the best I've ever seen him. There might've been more noise surrounding him if the ratings were higher.

The Best Actress is between Fala Chen and Myolie Wu. I think TVB is trying to create more drama to get ratings for their award show by generating this fight and I'm pretty sure they'll try and add in Tavia, Kate, and Linda to the gossip. Myolie has experience, ratings, and a good role on her side (and it helps that they're filming a sequel!) so I think she has a very good chance to getting the award. However, anything can happen and Fala can end up with the award. I'm not a hater, but I don't think Fala acted very well in her role in Lives of Omission, but her role was likable. I think people tend to confuse the characters with the acting. Also, I think her acting was better in Grace Under Fire so if they wanted to nominate her for an acting role, it should have been for that. But it's TVB so it's kinda expected. LOL. I think a better "fight" would have been between Myolie and Linda since her role was memorable and they're creating a sequel for her too, but I think she's guaranteed the Favorite Female Character Award. Tavia is currently winning one of the polls for Best Actress, which is no surprise to me because I think she has one of the most rabid fanbases online. She's nominated for The Other Truth, which she filmed while she was sick and they also had to cut her screentime because of this. I could tell that her sickness affected her speech, which is a shame because I think this was a very good role for her.