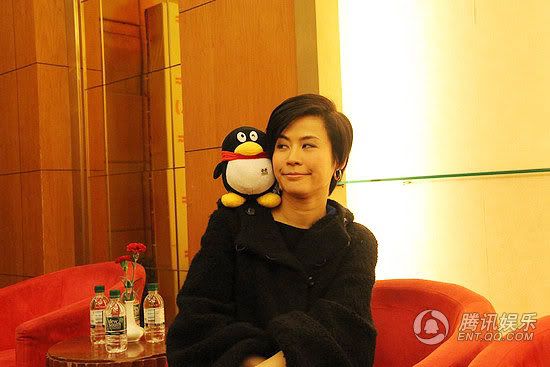 From a
Ent.qq.com
interview:
TR= Reporter JH= Jessica
TR: It was rumored that while filming Curse, you and Myolie were in discord. Is this true?
JH: Our collaboration was a happy one. Prior to Curse, Myolie and I had only collaborated once before and did not have the opportunity to work together again until now – this was our second collaboration. Both of us portrayed characters that were different from what we've done in the past and the entire process has been very smooth and happy. She gives me a good impression, as she is very hardworking, which does put some pressure on me to stay up to par. During filming, she was very focused everyday and always did her homework, constantly thinking about how best to portray the character – therefore, I truly hope that she will be able to win the TV Queen award this time around.
TR: TVB's anniversary awards ceremony is coming up soon and both you and Myolie are nominated for TV Queen. Do you feel you have a good chance at getting the award?
JH: Me? Of course not! I'm only accompanying the main contenders in the race. It probably won't be me, since I've already left TVB, so my chances are slim. Myolie and I worked together for 2 months and I could see that she worked really really hard to play her character well. She definitely gave me a 'fresh' feeling this time, as I've always felt that she was typecasted in the past, just like me….when I saw her performance this time, I was very surprised – wow, I didn't know she could be so evil!
TR: How about TV King? Who do you feel has a good chance?
JH: That's even more difficult to choose! Bosco Wong, Michael Tse, Kevin Cheng – all 3 have a huge chance. For me, I hope Bosco gets it because I'm rooting for Myolie to win -- if Bosco were to win as well, they will be extremely happy – let's allow them to have a beautiful memory in their lives that they can share together."
Source:
AsianFanatics
It's a pretty long article but I think it's pretty interesting. Jessica gives her thoughts on TVB and being typecast into roles. That's probably why I'm happy to see her and Myolie cast in Curse of the Royal Harem. Many people seem to think that they don't have that ancient look, but maybe it's because they're not used to seeing them like this? Yes, some people do look better in ancient costumes than others but if they kept casting the same people in roles, it would be pretty boring and repetitive. I'm glad they were at least given this opportunity.