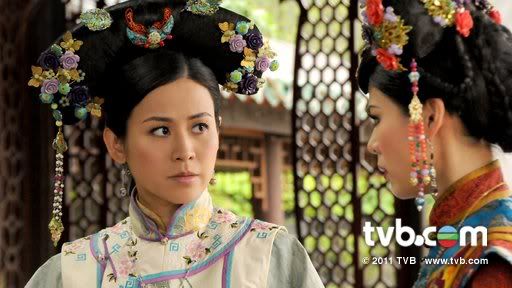 Random Thoughts:
This show is getting really good with Jessica finally fighting back! Jessica's character was a little boring to me in the beginning, but I'm glad that she's finally taking a stand! The other scene I really liked with Jessica was when she was with Sunny and he thought he was going to die.
I think Myolie's character is not very likable so far, but I think she's doing a really good job with her role playing a bratty and immature empress. I totally cackled when Nancy was freaking her out and got her to confess her wrongdoings, but I wish that Myolie suffered some more. I also really like seeing her with Joel because I think you see the real her, instead of what her mom wants her to be.
People need to stop complaining about what their ages are supposed to be and how Jessica's role is supposed to be younger than Myolie's and blah blah blah. It's a story, not a documentary.
I also like Jess Shum and Vivien Yeo's bickering. I wish it lasted longer, and I also hope to see Jess more in this series.
The scenes revolving around the males is pretty boring to me. I'd rather see more catfighting!
Although I really like seeing Joel and Myolie together, I also like seeing him with Sire Ma. I'm not a fan of Joel Chan as a person, but I do think he's a pretty good actor and I like his role here.
I can't wait to watch the rest of the series. I hope the end doesn't disappoint.