Best Actor
I'm glad to see that Stephen Au is included in the Best Actor nomination. I was hoping that he would at least get a nomination but I was thinking that they would stick him with the Supporting Actor nomination even though I consider him leading. I'm also surprised to see Ruco Chan in here instead of Raymond Wong who was rumored to be on it. I think he's the dark horse to win this since he was not nominated in the Most Improved category where he was expected to win. The race is still between Kevin and Michael Tse, but my choice this year would be for Kevin Cheng.
Best Actress
I'm surprised to see that Myolie is nominated for Curse and not Ghetto Justice since she is getting some mixed reviews for Curse so far while being mainly praised for Ghetto Justice. I think a majority of her detractors were not her fans to begin with and are trying to come out strong against her since she's the biggest threat to receive the award this year. I think Myolie is doing a very good job so far and from the clips, I think she'll do even better in the future episodes. When I look at comments from TVB watchers who are not over-invested fans, most of them can't believe she's such a bitch in this series which I think is a good thing since that means she's doing a good job.
I don't know why they nominated Tavia Yeung for Rippling Blossom when she was more considered the lead in the other 3 series she's in. Nice to see Elena Kong nominated.
I think the race is between Fala and Myolie still but I think Myolie deserves it this year.
Favorite Male Character
My choice would be Chilam Cheung but I think the winner will be between Michael Tse and Kevin Cheng.
Favorite Female Character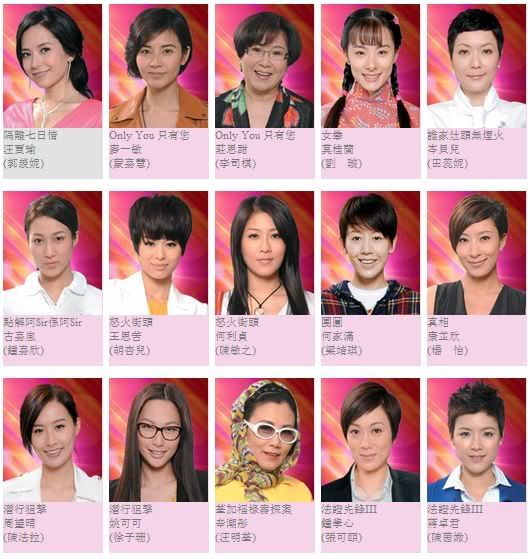 I think Linda is basically a guarantee to get this.
Best Supporting Actor
Hmm.. I don't really have a preference for this but it's rumored to go to Ben Wong.
Best Supporting Actress
Why would they nominate Aimee Chan for her tiny role in The Truth instead of Forensic Heroes 3? Her character is much more memorable there. Nice to see Elena Kong nominated in this category as well! I would be happy with either Sharon on Nancy winning.
Most Improved Actor
Jazz Lam for the win! I think he did a great job in Ghetto Justice!
Most Improved Actress
I'm rooting for Mandy Wong, but I wouldn't be surprised or mad if Sire Ma won. Actually Cilla Kung has a good chance too since her role in Yes Sir, No Sir was pretty popular
Best Series- Basically all the series were nominated.
I think Forensic Heroes 3 will win since they are getting great ratings. I'm not sure what I would consider to be the best series so far since FH3 and Curse of the Royal Harem has not finished yet, but my personal favorite so far is The Rippling Blossom.
I also love Ghetto Justice so that's probably why I'm rooting for all the actors from that show! haha
These are just my thoughts. :)